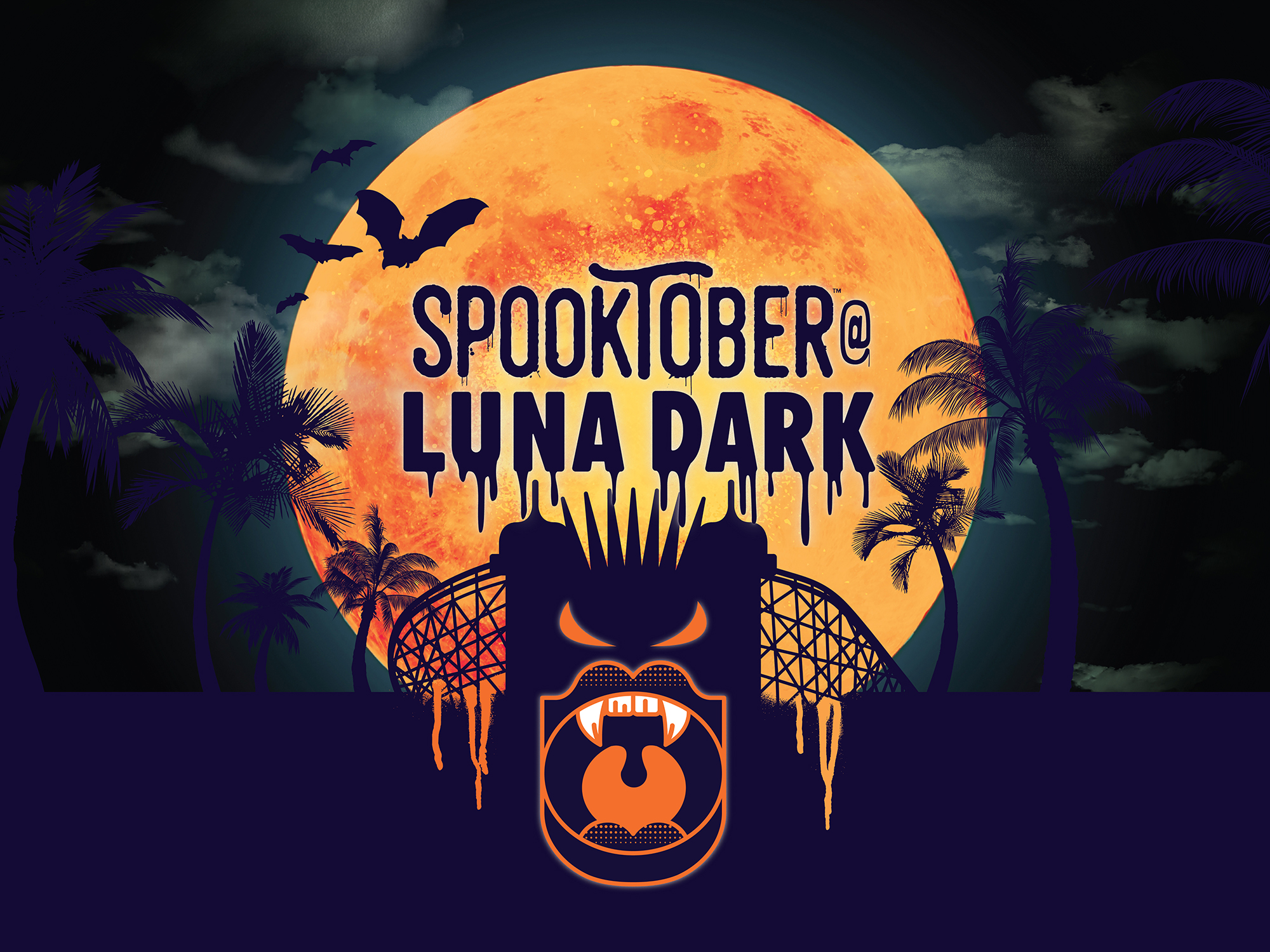 Spooktober Halloween at Luna Dark, St Kilda
In 2019 Halloween is going to a whole new level with the two biggest Halloween events in the state uniting for the first time to terrify Melbourne!
Halloween powerhouses – Spooktober and Luna Dark have joined forces to terrify Melbourne and create the epicentre of all things super spooky at one of the city's most iconic venue, Luna Park.
This is the first year for this unprecedented collaboration – [email protected]Luna Dark–an amazing Halloween extravaganza for all ages running over 8 nights and 4 days.
This spook-tacular festival will have it all, top notch scary and not so scary haunts, thrilling rides, activations in the Luna Park grounds, music, food and entertainment galore.
Highlights at [email protected]Luna Dark include:
Two interactive Haunted Houses – EXTREME PHOBIA where your darkest fears become reality and HAUNTED FAIRYTALES, where you'll be frightened and delighted by friendly characters within 8 rooms each with a fairy tale brought to life with a spooky spin.
Luna Park's FAMOUS rides will transform into a festival of lights and sounds that quiver and cackle. Jump on the spooky Carousel and watch the creepy shadows and shapes as your horse enters the forest.  Lurch into the Ghost Train for a retro rattling trip back in time and take a twilight ride on the 107-year-old Great Scenic Railway for a howl at the moon.
A HAUNTED SPIRITS BAR for those who need to calm their nerves after the fright of their lives. Come and enjoy Halloween-themed cocktails, live music and spooky entertainment.
CARNEVIL GAMES for all ages! Take a stab at the 'zombie clowns, fish for some eeky eyeballs, or toss a pumpkin or two.
THE GHASTLY GLAMOUR SFX PARLOUR where you can top-off your gruesome guise with a half skull face, seeping scar, wound or slash. What's a Halloween costume without a freaky face or ghoulish gash to match.
ENTER THE BEST DRESSED Creepy Costume Competition at the Fang-tastic Photo Studio. You'll get a souvenir pic of your freaky pose and be in to win prizes thanks to our costume partner; Lombard.
LITTLE ZOMBIES TRICK OR TREAT TRAIL with sherbety treats for all the little ones. Follow Melbourne's ultimate trick or treat trail stopping at Zombie stations along the way to refuel. The Trick or Treat Trail proudly supports My Room with just a gold coin donation to secure your treat bag and start filling it with an array of Wizz Fizz goodies.
Spooktober Halloween at Luna Dark, St Kilda
Start: Friday Oct 25 2019
End: Monday Nov 4 2019
Age: All ages - day for younger and evening for adults.
Pre-Book: Nights are fully ticketed, so make sure to purchase your tickets online before they sell out.
Price: $5 entry plus rides and haunt tickets