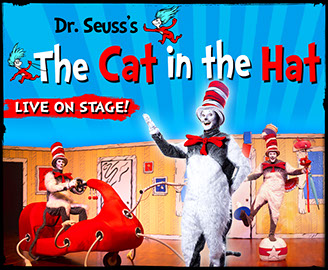 The Cat in the Hat at the Athenaeum Theatre, Melbourne
Children and adults alike are sure to be left in raptures by this zany and imaginative live performance of Dr Suess's masterpiece, The Cat in the Hat.
The show is heading to the Athenaeum Theatre after a sell-out tour of New Zealand.
This stage adaptation of the best selling book was created by the National Theatre of Great Britain. It faithfully tells the story  of a brother and sister, bored at home on a rainy day… (without their Mother!!??)  when they are visited by none other than 'The Cat' in his red and white striped Hat….(which they let in the door!!??)
Their outspoken and outraged pet Fish (yip the fish talks…and is the babysitter!!) is astounded and concerned, but this cat will not be deterred. He will teach us all to make our own fun with nothing but a little imagination.
The Cat in the Hat at the Athenaeum Theatre, Melbourne